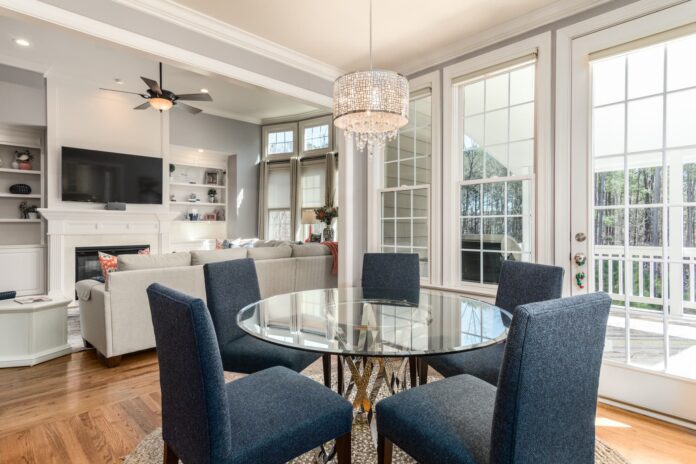 What is a glass pivot door?
A pivot door is a door that can open 360 degrees on its axis with hinges hidden at the top. They're a great stylish alternative to traditional doors taking up less space, being excellently multifunctional, and helping to transform your home.
A glass pivot door is an excellent choice for an internal pivot door, helping to create a bright and open space with the benefit of being able to open and close the glass pivot doors to switch between an open and closed space, noise control, and privacy.
Create a flexible living space with a glass pivot door
For many years, it has been stylish and practical to have an open-plan living space. Creating a space that feels welcoming and social. However, with more of us working from home, it's become important for us to also have dedicated space to work, create and concentrate or just enjoy time by ourselves.
A glass pivot door is excellent for this purpose. It allows you to play with the dimensions of the room, dividing when you need to. Perhaps you want to close your glass pivot door to your office area for calls, meetings, or concentration while still being able to see and interact with your family or home. Maybe you want the pivot door open between meetings.
You may want to divide your kitchen and dining room or kitchen and living area whilst cooking to limit cooking smells and noise but prefer it open at other times or for parties. The opportunities really are endless and help provide the perfect opportunity to customize your home to your needs.
Why choose a glass pivot door?
The beauty of a glass pivot door is being able to have the flexibility to adapt your home to your needs and play with the limits of your rooms – customizing them to what you need as and when you need them.
Pivot doors are easy to operate and sturdy, so can easily be opened or closed but will stay in place and won't be knocked by a sudden gust of wind when windows are open during the summer.
For modern living, especially as so many of us now spend more time at home, the glass pivot door is the perfect way to update and adapt your home for the future.
Will pivot doors suit my home?
Whilst it is easy to associate glass doors and glass pivot doors at that with a modern home, they can easily be adaptable to a more traditional home. Glass is a material that complements any house style, and you can choose and customize design styles to suit the style of your existing home.
When you enquire about pivot doors, your supplier will be able to help and advise you on your choice to find the perfect fit for your home. Surbiton Glass is a leading supplier of glass pivot doors in London, Surrey, and throughout the southeast.