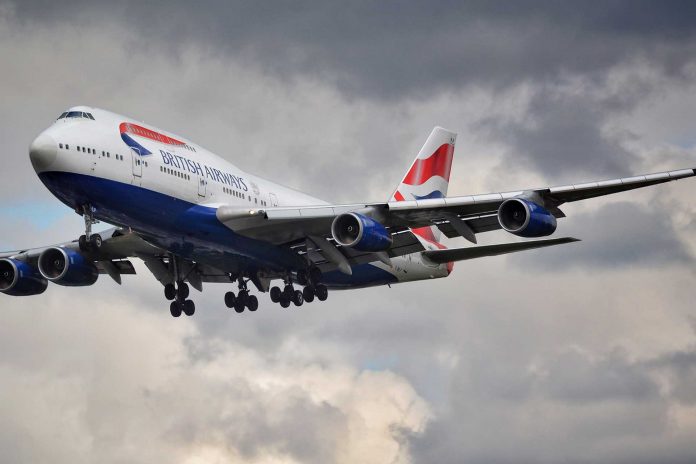 A British Airways (BA) flight which flew overnight from New York to London, has broken the record for the fastest flight. BA reaching the top speed of more than 800mph (1,287km/h).  British Aircraft flew overnight from Saturday to Sunday and reached its destination in 4 hours 56 minutes. British Aircraft beating the previous 2018 record by Norwegian, which flew from New York to London in 5 hours, 13 minutes. Average travel time to reach New York to London is actually around 6 hours 13 minutes. 
British Aircraft departure from  Kennedy International Airport at 6:47 p.m on Saturday and arrived at 4:43 a.m on Heathrow Airport. According to Flighttrader24's Trading Tool, British Aircraft Flight reached its peak ground speed of 825mph at the eastern edge of Newfoundland at about 35,000ft. The same night, 2 Virgin Atlantic flights from John F. Kennedy International Airport to Heathrow also take off in 5 Hours or less.
The British Aircraft plane was going faster than the speed of sound — 767 mph — it would not have breached the sonic barrier because it was being pushed by the air around it.  "A Boeing 747 carrying 400 passengers uses about the same amount of fuel as the Concorde did with 100 passengers before it was retired in 2003. The flight time from New York to London on the Concorde, which was popular with the rich and famous and priced beyond the budgets of most travellers, was three and a half hours.", Mr Spenser.
Fastest across the Atlantic tonight from New York to London so far is #BA112 at 4hr56m. #VS4 in 4:57, and #VS46 in 4:59. https://t.co/gfYoHGV3Y6https://t.co/kMhjCqdEtt

If we're not mistaken, BA now retakes the fastest subsonic NY-London crossing from Norwegian. pic.twitter.com/Sr1GPeAjuh

— Flightradar24 (@flightradar24) February 9, 2020
The chief Meteorologist, for WVIT-TV, an NBC affiliate in Connecticut, Ryan Hanrahan said that the strongest part of the jet stream of the flight took the advantage, known as the jet streak, which created tailwinds of more than 200 m.p.h. and contributed to the formation of a powerful storm that wreaked havoc on the United Kingdom.
An exceptional jet streak south of Greenland (>200 knots) resulted in some sub-5 hour JFK-Heathrow flight times today. Over the UK the "left exit region" of the jet helped produce Storm Ciara that dropped heavy rain and strong winds Sunday. pic.twitter.com/OpEnoFtTVk

— Ryan Hanrahan (@ryanhanrahan) February 9, 2020
Paul Williams, a Professor of Atmospheric Science at the University of Reading, said that the Emergency of Planetary Climate change was contributing to the maximizing frequency of record-breaking transatlantic flights.
The news of breaking the records was announced by Flightradar24 on its Twitter account, writing: "If we're not mistaken, British Aircraft now retakes the fastest  NY-London crossing from Norwegian."
Virgin said "It's true that we were narrowly beaten by a British Aircraft Boeing 747, however, they had double the amount of engines and burnt two times as much fuel as Capt. Chris in our brand-new, fuel-efficient Airbus A350-1000,".