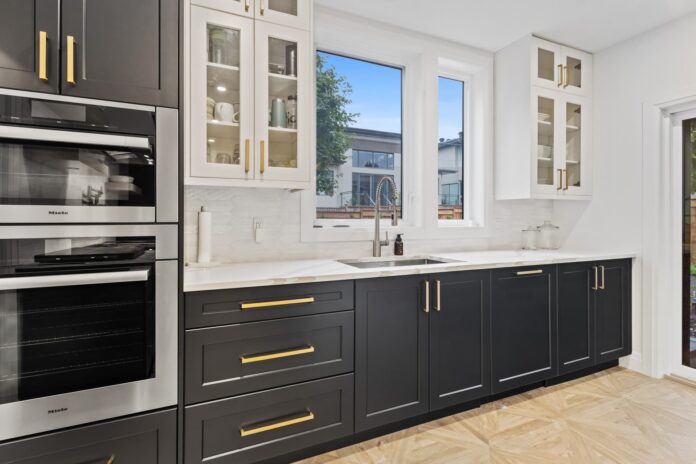 Remodeling a kitchen can be expensive, but there are some simple design ideas you can use to help your kitchen feel new and update your space to look more modern and stylish.
Replace your splashback
One way to bring new life to your kitchen and create a noticeable change is to replace your splashback; why not move from tiles to a glass splashback?
Glass splashbacks have become increasingly popular as they're easy to clean and provide a huge variety of design options such as bespoke designs, colors, or even photographs that can be placed behind your glass splashback to make it truly unique.
Surbiton Glass provides splashbacks London with an endless choice of colors and finishes made to your dimensions. They'll also install it for you too so you can be confident it will be fitted correctly, safely, and efficiently – providing brilliant protection for years to come.
Paint your kitchen cupboards
Have your kitchen cupboards started to look dated? More and more people are trying out an easy DIY option to transform tired-looking kitchen cupboards to help their kitchens look modern and stylish once again – ideal when you don't want to spend out on a whole new kitchen!
The type of paint you use will depend on the finish you want; a chalky finish can fit a more traditional home whilst satin is ideal for easily wiping down. Prep the cabinets by cleaning them then lightly sanding them until you have an even matte surface before wiping off dust with a damp cloth and allowing it to dry.
Be sure to remove handles and cover hinges whilst painting, you could even look at replacing handles to create even more of a transformation. This can be an easy transformation to do over a weekend!
Change up your kitchen floor
Whether your tiles are looking tired, or your laminate is looking lackluster, replacing your kitchen floor can help work wonders and create a more welcoming space. There is plenty of choice from wooden floors to stone, porcelain, and vinyl.
You can choose from a range of tile sizes, designs, and colors. Whether you want something simple and minimalistic or a bright statement piece, flooring shouldn't be an afterthought when it comes to your kitchen – it has the ability to truly make a statement. Why not consider contrasting with your splashback design to make a real impression.
Smart storage solutions
As we accumulate plenty of kitchen gadgets, utensils, and crockery over time – a kitchen can easily become cluttered and cupboards hard to sift through when you're looking for a particular pan.
The organization is key in any kitchen, so why not start by going through your cupboards and storage to have a clear-out and get rid of things you don't use – if they're in good condition then think about donating them.
Look for cupboard organizers like a slot in shelving, lazy susans, divider boxes, and stick-on handles – this will allow you to organize your cupboards and drawers in a way you can easily see what you have, and you know where everything is.