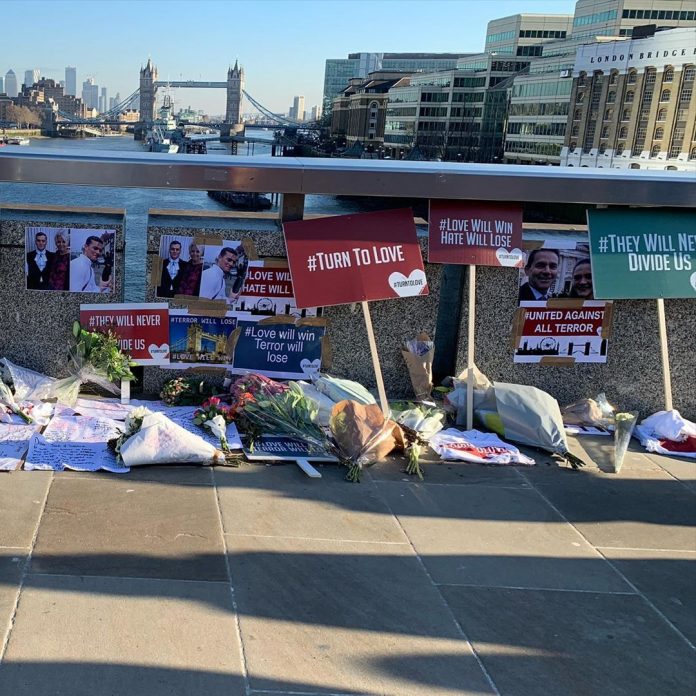 Encountered by police of a man who stabbed two people to death and wounded three others in a London Bridge "terror-related" attack after he was curbed by the public. Usman Khan, 28, (terrorist) had been released from jail on license in 2018, halfway through a 16-year sentence for terrorism offences. The victims Jack Merritt( co-ordinator), 25, and Saskia Jones(volunteer), 23, graduates of Cambridge University involved in a university prisoner rehabilitation program at Cambridge University involved in a university prisoner rehabilitation programme were killed in the attack.
Khan was released from jail in December 2018 Mr Basu said. In 2012 he had been convicted in 2012 after plotting with a group from Stoke-on-Trent, London and Cardiff. They discussed attacking the London Stock Exchange and pubs in Stoke and setting up a jihadist training camp in Pakistan.
Meanwhile, in a conference being held on Friday afternoon at Fishmongers' Hall, at the north end of London Bridge, they were attacked and killed. Other three injured people were a member staff of the university. One of those hurt left hospital on Sunday, and the other two remain in a stable condition, the NHS said. At 13:58 GMT inside Fishmongers' Hall Khan began attacking. Fishmonger Company chief executive Toby Williamson said staff who fought Khan as he launched his attack believed he was wearing a bomb. He described the scene inside the hall as a game of "pinball bomb with added knives".
He said one staff member tried his best to hold back Khan behind doors while another should call to emergency services. Mr Williamson said two men used chairs, fire extinguishers and narwhal tusks, which were hanging on the wall, to turn away Khan after he broke through the doors, driving him out of the building. Lucasz(Polish Chef), who was working as a glass cleaner in the hall's basement, suffered five wounds to his left-hand side as he repealed the knifeman with the narwhal tusk during "about a minute of one-on-one straight combat" – allowing others time to escape danger, Mr Williamson said.
Participants of Learning Together Conference thrown out Khan from the hall. Two men can be seen in a video holding the attacker back using a whale tusk, seized from a wall mount, and a fire extinguisher spray, before others stepped in to pin him down. The Metropolitan Police arrived within five minutes of the initial 999 call. Police Officers moved away from people from Khan after they thought he was wearing a suicide vest under his jacket.
In a Twitter response to Brendan Cox, whose MP wife Jo Cox was murdered, Jack Merritt's father said: "I obviously don't have full facts about the process that led to the attacker being released but what I can say with certainty is that no one at the event had the slightest inkling that he could or would do something like this.
London Mayor Sadiq Khan, no relation to the attacker, hailed the heroism of the public. Khan said Saturday he was proud of the "ordinary people who acted in extraordinary ways," describing them as the "best of us and the best of humanity."
The mayor said the attack was "not sophisticated." He noted people would not have known at the time that the device worn by the attacker was fake. "Another example of the bravery and heroism of ordinary Londoners," he said. The Queen sent "thoughts, prayers and deepest sympathies to all those who have lost loved ones" on behalf of herself and Prince Philip.