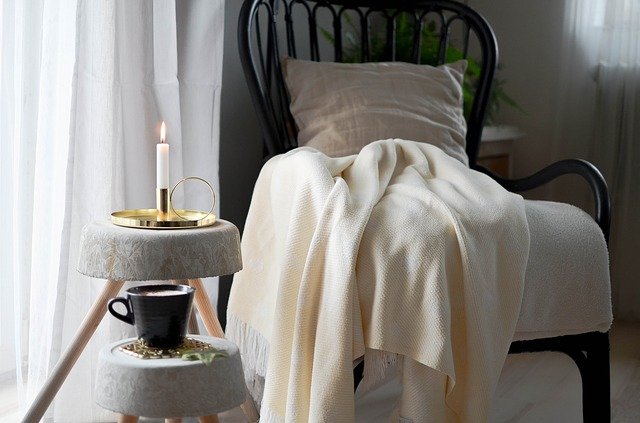 If you are not familiar with the currently trending and highly fashionable Hygge design, then you are truly missing out!
Conversely, if you are, then you will already be fully aware of how the apres-ski trend is sweeping the inspiration boards of designers and house designers across the length and breadth of the United Kingdom and beyond.
With that in mind, continue reading to learn how to turn your kitchen into the epitome of Hygge design. 
Wooden Kitchen Cabinets
One of the key components of designing a kitchen inspired by Hygge is to swap your current kitchen cabinets with wooden ones. 
Wooden furniture in a kitchen promotes a warm, inviting and natural atmosphere, and for extra Hygge points, make sure your cooking utensils and chopping boards are a similar make and style of wood. 
White Candles
If you had to summarize what Hygge means to someone who has never even heard of the design term before, one word undoubtedly always included in the summary would be the word 'candles'. 
The beauty of adding candles into the kitchen, whether you ever actually light them or not, is that not only do they bring luxury, warmth and an overall apres-ski feel, but all you need are plain, white pillar candles which are both inexpensive and incredibly easy to source. 
String Lights
String fairy lights hung in soft arches around the edges of the kitchen blinds, wall art, and even around the inner door frame are another key element to move your kitchen into a Hygge designed room. 
Ensure that the lights you buy are not bright white, but rather in a warmer white colour, and additionally, make sure that the connecting wires are brown or see-through, as black has no place in any Hygge room. 
Neutral Paint Colours
At the very heart of Scandinavian design, especially when it comes to apres-ski and Hygge design features, is a neutral colour scheme.
Obviously, there is still scope for little splashes of colour, but on the whole, your kitchen should resemble a ski lodge, with the base colours being essentially whites, browns and greys.
Go Big on Texture
Even though apres-ski and Hygge design components are centred around neutral tones, texture plays a huge part in bringing a room to life.
If you already have a dining table and chairs within your kitchen space, if they are made of wood, leave them bare and simply sit them atop a brown and cream furry rug. 
Open Plan
Naturally, not everyone has the luxury of a large, open space to call their kitchen, but luckily there is a myriad of ways to make the room appear more spacious. Take a trip to a renowned and reputable bespoke kitchen company, such as nonpareilsolutions.co.uk, for helpful advice and inspiration. 
However, the key to a Hygge layout lies in making the kitchen appear to be larger than it is, by clearing the floor from any clutter (apart from neutral furry rugs) and keeping the worktops and any furniture used for storage pushed back and, where possible, not on show at all.